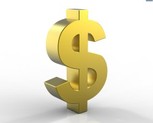 Often time, pricing our product/service is harder than making the
product itself. There are factors to determine the right sale price to an item.

Basically we figure the direct cost and indirect cost to make something, add profit margin then put the price tag. Cost accounting teach you about labor, materials and freight etc., but what about YOU!

What about your time creating, planning and managing your production or service you provide. One may say; I'm on payroll so it is part of the cost. This not what I meant with pricing right.

There are a price for the years of education and experience you have in your trade. It doesn't mean a fixed dollar amount you add every time you invoice a customer or client. Our subject is not accounting only, but rather the aspect of evaluating yourself before you sell product/service. You can see this in the difference of brand names in the market. But in smaller scale, you have to put a price tag on yourself. How much education you have in your business?
How long have you been in this business? What is your business ranking among competition? And finally, how much sweat thoughts you put into producing your product/service.

These are important factors to in determining the price of product/service. Often time competition, slow market and bad economy force business owners to ignore these factor to make a sale. One may price down labor, cost of material and curb some of indirect cost of product/service, but the cost of making the business start, run and succeed is YOU. How can one ignore that?

Another aspect is making the customer/client happy. Your customer/client will not be satisfied nor happy if you priced yourself down. You may discount the product/service and may add gifts or promotion to make customer/client happy. Discounting yourself is a mistake that most business people do!

Finally, before you put a price tag on an item, include the value of YOU in the profit margin.