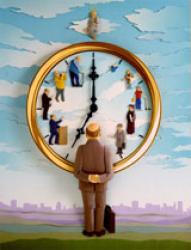 Timing income and expenses
Smart timing of income and expenses can reduce your tax liability, and poor timing can unnecessarily increase it.
When you don't expect to be subject to the AMT in the current year or the next year, deferring income to the next year and accelerating deductible expenses into the current year typically is a good idea. Why? Because it will defer tax, which is usually beneficial.
But when you expect to be in a higher tax bracket next year — or you expect tax rates to go up — the opposite approach may be beneficial: Accelerating income will allow more income to be taxed at your current year's lower rate. And deferring expenses will make the deductions more valuable, because deductions save more tax when you're subject to a higher tax rate.
Don't forget that the income-based itemized deduction reduction* returned last year. Its impact should be taken into account when considering timing strategies.
Whatever the reason behind your desire to time income and expenses, here are some income items whose timing you may be able to control:
Bonuses,
Consulting or other self-employment income,
U.S. Treasury bill income, and
Retirement plan distributions, to the extent they won't be subject to early-withdrawal penalties and aren't required.
And here are some potentially controllable expenses:
State and local income taxes,
Property taxes,
Mortgage interest,
Margin interest, and
Charitable contributions.
Warning:
Prepaid expenses can be deducted only in the year to which they apply. For example, you can prepay (by Dec. 31) property taxes that relate to this year but that are due next year, and deduct the payment on this year's return. But you generally can't prepay property taxes that relate to next year and deduct the payment on this year's return.
Miscellaneous itemized deductions
Many expenses that may qualify as miscellaneous itemized deductions are deductible for regular tax purposes only to the extent they exceed, in aggregate, 2% of your AGI. Bunching these expenses into a single year may allow you to exceed this "floor."
*Personal exemption phase-out and itemized deduction reduction
If your AGI exceeds the applicable threshold, your personal exemptions will be phased out and your itemized deductions reduced. For 2014, the thresholds are $254,200 (single), $279,650 (head of household), $305,050 (joint filer) and $152,525 (married filing separately).
The personal exemption phase-out reduces exemptions by 2% for each $2,500 (or portion thereof) by which a taxpayer's AGI exceeds the applicable threshold (2% for each $1,250 for married taxpayers filing separately).
The itemized deduction limitation reduces otherwise allowable deductions by 3% of the amount by which a taxpayer's AGI exceeds the applicable threshold (not to exceed 80% of otherwise allowable deductions). It doesn't apply, however, to deductions for medical expenses, investment interest, or casualty, theft or wagering losses.