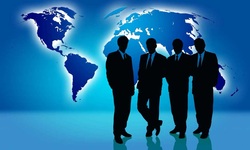 At M-E Accounting we strive to provide clients as well as prospects with best and most beneficial business consultation. Small Business owners always ask; how to promote their product or service, how to be seen as authentic business? Also, the most common request and/or concern is how to get business credit for finance and/or vendors.
Generally they stumble upon cost ignoring the fact of weighing the cons vs. the pros. They often ask how much before they know how beneficiary these thing to their business success and prosperity!
The following are guideline points as to how to utilize technology to promote your business, how to authenticate it and how to build business credit. Then, I will explain how these are investment not expense.
1- Get into Social Media
Social media i.e. Facebook, Link and Google Plus etc. are the great use of technology that promote business offered services or products. You subject your business to be known to a broader audience, show your qualification and introduce your service or product.
Opening a business web page that's connected to a social media engine is a great opportunity for customers to know you, your business and what you sell. It is also your tool to receive calls and make a sale. As important to have a social media page as crucial to businesses that sell product to open a WEB Store. Everyone now make a purchase online. So, it is an opportunity one must cash in.
If a small business owner is a computer savvy, he/she can build his/her business web page with the least cost. But there will be no cost to establish a social media connection. Also, whether you are knowledgeable of these elements of technology or not, a web store will need professional help, and that may cost a little.
2- Get Authenticated
For a business to be authenticated, one has to follow certain rules and regulations. First and foremost; business has to be registered with local and state authorities, Obtain professional license if required and registered with a group or a professional entity. Also, business affiliated with local Chamber of Commerce gains authentication as a chamber's partner. Visit US CHAMBER OF COMMERCE
https://www.uschamber.com
for detail.
When business complete two years of practice, it is recommended to register with the Better Business Bureau (BBB). For more details see
http://www.bbb.org
3- Get Business Credit
Business credit is an important subject that relates to all business finances, vendors and creditors. When business is looking for either/or finance new project or expansion, operating capital or acquiring vendors' credit, all creditors will ask if business has D.U.N.S number or has Dun & Bradstreet Credit Report?
Dun & Bradstreet account assist in building business credit by documenting credit references, vendors and banks related to your business and help business get funded too.
For more information on how to register with Dun & Bradstreet visit:
http://www.dnb.com/
4- Are the above Expenses or Investment?
All of the above are expenses if one looks at the empty half of the glass or not willing to grow business success without cost. Off course they are expenses in accounting point of view, but rather investment in the eye of a business leadership owner and entrepreneur.

One should weigh the benefits vs the cost of each item. Let's do that in a general perspective. Bair in mind that each and every business has its own situation and unique perspective!

Web Page cost between $100 to $500 a year depending on your business need and your choices. Social media costs nothing except when you start promoting posts and/or making an offer. Then there will be a minimal cost that will be covered by the revenue gained if used wisely.

Chamber of Commerce annual fees are paid to advertise with surety as it helps in business networking. On the other hand integrity and good business behavior are proven by BBB business rating. Then the benefit outweigh the cost. For example, when consumers search for business in either Chamber of Commerce or BBB web sites, they most likely prefer BBB partner over non-BBB business. With BBB customers can review your business accomplishment, integrity and authentication.

Business credit is a must as a foundation for a solid strong business credit rating as well as obtaining finances for business growth and expantion.

Last but not least, these are some of business tolls for successful entrepreneurs, and M-E Accounting & Tax Services we'd be honored to be of assistance in any or all of the above mentioned tools!
Motaz Elkhouly